It's Getting To Be That Time Of Year Again...
YES, IT'S ALMOST SQUIDMAS. Only a few shopping days left!
I hope you land operatives have already sent for your Ray Troll Squidmas Cards, including this design: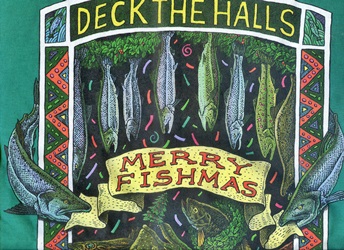 Aquatic operatives obviously have THEIR OWN, TOP-SECRET ways of celebrating this most joyful holiday, but YOU LADIES UP ON LAND can get going right now exchanging piscatorial recipes, BAKING THEM UP and improving grandma's Frutti Di Mare salad with your own special touches.
My advice for 2018: NOTHING SAYS SQUIDMAS LIKE CAVIAR SUSHI.