Fear The Tartar Sauce. Fear It!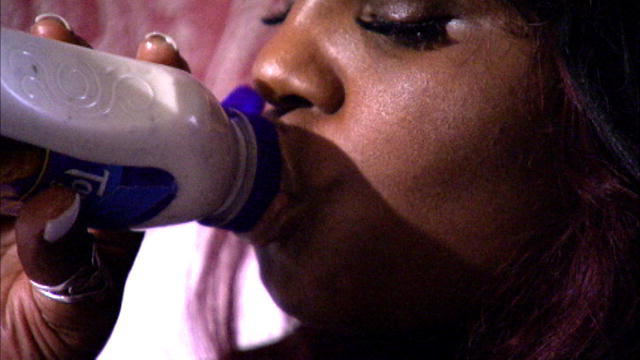 This DISTURBING IMAGE captures one of the CENTRAL PROBLEMS of our recruiting effort in the North American Conspiracy Zone. If you look carefully you'll see that the woman in this photo is chugging a bottle of (gakk!) TARTAR SAUCE. R&D has been studying this problem since the filth was first invented, and there's NO GETTING AROUND IT. When a Shaved Monkey adds tartar sauce to any meal made from OUR OPERATIVES -- be it Codfish sticks, panfried Catfish fillets, planked Whitefish a la duchesse, a heaping bowl of frutti di mare salad at Squidmastime, or what have you -- the stuff seems to LOWER THE EFFECT WE ARE GIVING OUR LIVES TO ACHIEVE. The spoogy, green, pus-looking GLOP somehow keeps the fish DNA from absorbing properly into the system of a Shaved Monkey. It keeps him or her from transforming into a fish.
I KNOW! THAT'S WHAT I SAID, TOO! This explains so much, you know? ESPECIALLY NEBRASKA, WHERE EVERYONE PRACTICALLY LIVES ON THE STUFF AND WHERE RECRUITMENT HAS BEEN SLOWER THAN MOLASSES IN JANUARY.
And what I can't grasp is why it's so popular. It looks, smells, and tastes horrible. I feel so incredibly lucky that I hated the stuff from infancy and would cheerfully eat any type of fish prepared in almost any fashion AS LONG AS IT NEVER TOUCHED TARTAR SAUCE. It's as if Dagon reached out a tentacle from the bottom of the ocean and touched ME, a little human girl, and specifically CHOSE me to eat fish until I turned into one. AND LOOK AT ME NOW. Almost 100% Catfish, and leading an ARMY of my sisters to BRING THE REST OF THE FEATHERLESS BIPEDS HOME TO THE SEA WHERE THEY TRULY BELONG.
SO HERE'S MY SUGGESTION, LADIES.
Clearly we need a new initiative. We are no longer going to waste a lot of time on consumers of tartar sauce, AT LEAST if we are only able to recruit them by getting them to eat fish. R&D has cleared all other sauces for recruitment purposes: soy sauce, lemon juice, white sauce with parsley, Worcestershire, nuoc mam, ketchup, red wine sauce, obviously Oyster sauce, that minty stuff I can't remember the name of, sweet 'n' sour sauce, and garum -- remember garum? Dang that was good, but just try finding it these days! -- and even that awful honey-mustard stuff are all TOTALLY FINE. Serve those instead at your restaurants, your potlucks, your barbecues. Heck, INVENT SOMETHING TOTALLY NEW. If it goes over, HAND OUT THE RECIPE AT YOUR NEXT CHAPTER MEETING.
Are you already working on a tartar sauce eater and feeling progress? THERE ARE STILL AVENUES TO PURSUE. You can often wean your Naked Ape date onto lemon juice these days; everyone is so conscious of their waistlines in the USA, partly because THEY EAT SO MUCH TARTAR SAUCE. Get him up close and personal with fish in OTHER ways. Go to the aquarium. Take the guy fishing. Ask him to help you set up your new Goldfish tank. There's always scuba diving. Rent a Jacques Cousteau film. When you serve fish, serve something that does NOT go with tartar sauce -- like Clam chowder. (A list of recipes will be in your mailboxes soon.) And: Swim, swim, swim!!!!
New motto for the week: LIPS THAT TOUCH TARTAR WILL NEVER TOUCH MINE!