LAKE PLACID 2, 3, AND 4: THE FINAL CHAPTER
OK, I'm NOT going to belabor the few differences -- and the far-more-numerous similarities -- between the three sequels to the CLASSIC 1999 tale of the exploits of the FRUITS OF JOHNNY GATORSEED. Let's just hit the highlights, so I can underline for my semi-aquatic readers what they need to notice as they watch.
Lake Placid 2 was released, to no fanfare I am aware of, in 2007. I can't get the dang cover art to show up on my blog entry, so I'm serving up a nice screen capture instead...
In the continuing tale of The Crocodiles of Aroostook County, Maine, John Schneider, of all people, is now sheriff -- and apparently he has never communicated in any way about the wildlife in Black Lake with Sheriff Keogh (played by Brendan Gleason in the first movie), who I assume was once his boss. The crocs appears to be more or less news to the hero of this movie. Mrs. Bickerman (Betty White) has mysteriously disappeared, with all her livestock, from the little house by the lake. At some point, Mrs. Bickerman's sister, "Crazy Sadie" Bickerman (Chloris Leachman), moved into the old place and is keeping it up. At no point do they explain why a married woman and her unmarried sister have the same, fairly unusual last name -- unless Hector Cyr (played by Oliver Platt in the first movie) was righter than he knew about the pecadilloes of people from the woods of Maine.
There are a lot more nekkid young adults in this movie, because come on, someone has to get eaten, right? Otherwise, this is exactly the same movie as the first one.
This is the next, 2010, sequel. And, yes, the Bickermans are back! This time, a relative of Crazy Sadie's -- a treehugging type married to a citified realtor -- has come to check out the now-deserted homestead and see if they can sell it, despite a depressed market. The first thing they do is bestow Sadie's stuffed toy crocodile on their red-headed misfit son...
...And at this point I need to interject. I am starting to really understand Mrs. Bickerman's comment in the first movie: "Incomplete records haunt me so." They never explain whether the dad in this family is the child of Sadie (who was clearly childless in Lake Placid 2), or the son of Betty White's character from Lake Placid, or maybe a relative of her never-seen husband or someone else entirely. If he's Mrs. Bickerman's son, why does he only talk about his aunt and never mention his mom or dad? What was he up to while his parents were disappearing? If he's Sadie's son, why is he still not interested in the fate of his aunt? In short, what manner of Bickerman do we have before us? Are the Bickermans like the Addams Family, with everyone married to everyone even though they all had the same last name to start with? Oh, it probably doesn't matter...
WHAT YOU NEED TO NOTICE is that as soon as the mother's back is turned, the kid starts feeding the crocodiles meat stolen from the freezer. Then he goes to the store to steal more for them. We quickly learn that the lake is fairly teeming with the scaly operatives, and like the first set of Bickermans to find them there and Crazy Sadie in the first sequel, THIS KID IS DEVOTED TO THEM. I also want you to notice that mom is distracted from noticing any of this by her laptop computer. THIS LITTLE INVENTION, LIKE THE SMARTPHONE, HAS ALLOWED MORE SECRET COMMUNICATIONS TO GO ON BETWEEN FISH AND HUMAN THAN ANYTHING ELSE IN DECADES.
THAT IS NOT TO SAY that fish are connecting to humans through Facebook or (chuckle) that other app called Plenty of Fish; it's simply that humans are so focused on their electronic screens that they do not notice that their partners, siblings, and children are turning into fish. It is to laugh. Onwards.
The sheriff in this sequel is played by Michael Ironside. His position on the matter is that the crocs were all cleared out long ago, and anything you hear about it now is just backwoods legend. HE GOT THAT WRONG!
Watch for some great continuity errors in this movie.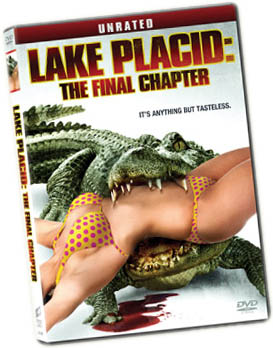 Annnnnnd this one came out in 2012. At this point, utter confusion sets in. The Army Corps of Engineers has been called in to build an electrified fence all the way around the lake. The good townspeople have finally come to grips with the fact that there are so many killer crocs in the water that you can almost walk across their backs from shore to shore. But -- where are we again, exactly? At different points in the story they refer to the infested waters as Lake Placid, Black Lake and even a totally new name, Clear Lake. Even the warning signs change the name of this lake from one scene to the next.
And where is the Army in this story, exactly? The guys brought in to build the fence are not from the Army Corps of Anything -- they are a civilian father-and-son team with emotional baggage, not unlike the baggage dealt with by the sheriff and her daughter. Yes -- Black Lake, which apparently goes through sheriffs like wet Kleenex, now has a pretty blonde sheriff (Elizabeth Rohm) very much like the one you remember from Piranha 3-D (Elizabeth Shue). This sheriff's daughter looks about 5 years younger than the sheriff herself and never goes out on dates. Mom convinces her to go along on a swim-team barbecue, which for some reason includes a long bus ride through the woods and an overnight camping trip -- several nubile young girls, several horny young men -- and 2 MALE chaperones, one of which is the bus driver who gets them lost because he is too busy looking at Internet porn on his smartphone to notice where he's going. That sounds like a recipe for some safe, wholesome fun, doesn't it?
HOW THE CROCS STEERED HIM TOWARDS BLACK LAKE WITHOUT HIS KNOWLEDGE IS CLASSIFIED, SORRY. HOW THEY KEPT EVERYONE ELSE ON THE BUS FROM NOTICING IS ALSO CLASSIFIED. SORRY!
I CANNOT EVEN ATTEMPT TO EXPLAIN TO YOU WHY A GROUP OF LOCAL KIDS -- AND THEIR SWIM-TEAM COACH -- DO NOT NOTICE AT ANY POINT DURING THIS CAMPING TRIP THAT THEY ARE AT THE WRONG LAKE. NO FISH CONCEALMENT TECHNIQUE IS NORMALLY THAT GOOD.
While all this is going on, there is a group of poachers looking to cash in on the scaly fortune in the water, closing in with what appears to be the help of yet another treehugging research guy who thinks that "the world will be a lonelier place" if anyone kills the crocs.
Nobody explains at any point why the poachers and the conservationists are working together.
One moment I love in this movie is the one where a guy BACKS into the electrified croc fence, dances the I'm Getting Electrocuted dance as all humans do in the movies, then falls dead to the ground -- with soot and wire marks ACROSS HIS FACE. Dude, the wire never touched the front of his head!
Then the piece de resistance -- ANOTHER BICKERMAN!
The moral of these stories is THERE WILL ALWAYS BE ANOTHER BICKERMAN. Similarly, JUST WHEN YOU THOUGHT IT WAS SAFE TO GO BACK IN THE WATER: MORE RECRUITERS ARE WAITING TO GREET YOU. No matter who the sheriff is, no matter what the lake is called and no matter the species of the recruiting operatives, there will be someone working to bring the Shaved Monkeys together with their finned, scaly, water-loving dream dates.
Then the humans turn into fish, enter the sea and dwell with Dagon in wonder and glory forever.