Another Disturbing Dream!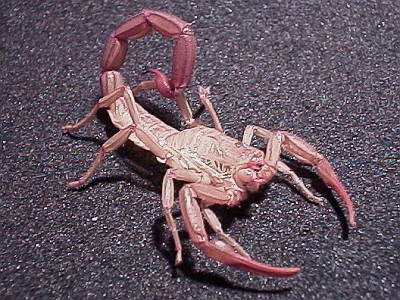 THIS TIME, not only was I human again, but I was lying in bed in the room I slept in when I was still a Shaved Monkey travel agent.
I looked down at myself, and the bedspread had turned into lawn grass. Tucked into the grass was an ENORMOUS Scorpion -- crusty gray, as if she had a soap-scum problem or was about to molt, with claws out to THERE and the business end, the stinger, concealed in the grass. The photo above is not of the same species -- far too dainty and slender. I chose this image off Google because of the pink-tipped claws; the pink tips on the immense, bunched claws were the only color on the specimen in bed with me. This was a thick-shelled customer, almost like the larger and tougher Crab species, seemingly designed to pry open cans judging by the muscular build. The whole business must have been a foot and a half long.
Then I spotted another one, the same color but much smaller, tailless and stingless, with a very different shape, almost like a long-legged Trilobite with a segmented body. No pink tips here, and claws the right size for capturing small prey.
I remember thinking, "I'LL HAVE TO BE VERY CAREFUL IF I TURN OVER."
>> Scorpions were originally an aquatic species.
>> Scorpio is still a water sign.
>> The larger Scorpion was distinctly Crablike.
Beyond that, I'M JUST NOT SURE WHAT THIS MEANS.
Labels: fish conspiracy, Scorpions