47 METERS DOWN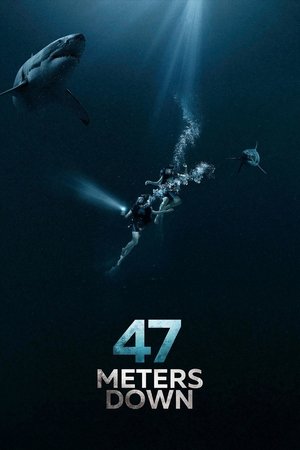 WELL, I FINALLY GOT AROUND TO SEEING THIS ONE FOR YOU!
And what a fine film this is. There are SO MANY THINGS to like about it:
CLIFFIE'S NOTES ON WHAT MAY BE THE TRAINING FILM OF THE YEAR:
>> The Shark recruiting team in this film looked, and acted, ABSOLUTELY REAL. No stiffly-swimming bright-orange cartoon sharks here. No video-game monsters with endlessly champing jaws and nuclear weapons strapped to their backs. No Shaved Monkey telling them what to do!!!
>> The scenario was, you know, not UTTERLY convincing, but PLAUSIBLE.
>> I like the romantic undertone of the story. The central Naked Ape character -- who for a change is also the central recruit in the story, not an extra -- is DISAPPOINTED IN LOVE, and to make herself feel better she GOES SCUBA DIVING WITH SOME SHARKS.
>> You can't miss seeing what she's struggling with. It's written all over her face -- if you're a landfish or a former human you'll know what I mean by this. Should she just go back to the USA and try again with another Naked Ape boyfriend? Should she go on with her pointless status competition with her sister? Or should she GET IN THE WATER?
>> What makes this so difficult for her is the fact that she can visibly FEEL THE SHARKS CALLING TO HER. They circle the tour boat eagerly, and follow the sisters to the bottom with the HIGHLY FOCUSED ATTENTION that is the hallmark of Shark recruiters everywhere. She WANTS to go and meet them, but she's TERRIFIED. Why? Because she senses on some level that this is not just a scuba-diving day trip, and SHE ISN'T SURE SHE WANTS TO COMMIT. She did just get dumped by some guy, after all. MANY OF US HAVE BEEN IN THE SAME POSITION. Ultimately, as scared as she is, she still makes the right decision.

>> Her sister tells her again and again that there's nothing to be afraid of and it'll be all right. She models bravery for the protagonist by getting right in the water. And she's the first to make a meaningful contact with a recruiting operative. The message here is: YOU ASK, YOU GET.
>> Notice that the two guys, in whom the sisters are supposedly interested, go into the water separately? Notice that they emerge quickly, and say NOTHING about what or who they saw down there? Because they're just the bait. THEY WERE NEVER GOING TO BE RECRUITED IN THE FIRST PLACE. If we recruited them, they wouldn't be available to lure anyone else into that boat!!!
>> And what of the boat's crew, you ask? GREAT BUNCH OF GUYS.
>> I'm not going to give away the ending here, but I have to say I'm filled with a lasting feeling happiness after seeing the MESSAGE OF HOPE in this movie. It's a MODEL OPERATION: you call us and we will come.
We're happy to meet you halfway.