THE MIST
Now, I really don't want to get into the USUAL ARGUMENT about the loyalties, origin or exact species of the various critters we saw in The Mist, a 2007 release based on the Stephen King story of the same name and put together by the same guy (using much of the same human acting cast) who later came up with The Walking Dead. But I do want to make a few points:
CLIFFIE'S NOTES ON THE MIST:
>> I want to note how the lovely lass SHOWN ABOVE seems to simply wait patiently outside the front doors of the grocery store, reaching over casually to pick up and dine upon recruit anyone who walks past, for instance this guy: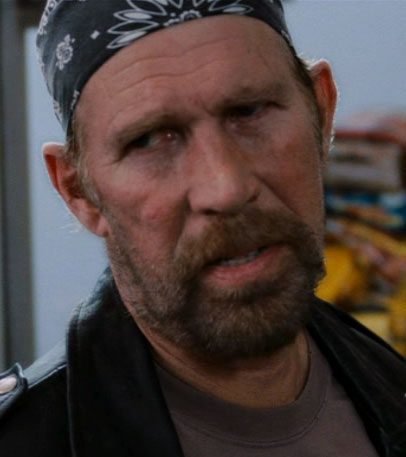 >> She behaves, in other words, like ANY of our operatives, FISHING WHERE THE FISH ARE instead of racing around going after dubious quarry that will simply flee and hide from us, I mean HER. The characters in this movie COME TO BE RECRUITED, and the recruiting operative KNOWS it -- a pattern of calm awareness we instill in every good operative.
>> I also want to point out how calmly and WILLINGLY he goes to be recruited, as seen here:
>> AND I want to point out how fully-human fans of this movie call her the "Mantis Monster." Just bear in mind that HUMANS ALWAYS GET THIS STUFF WRONG. Seriously, DOES THIS LOOK LIKE A MANTIS TO YOU?
>> One thing that really comes across in this movie is the element of CHOICE. We don't want to recruit EVERYONE (just yet) and
-- incredibly --

not everyone wants to BE recruited. Look at Melissa McBride's character, not given a name in the credits. SHE chooses not to be recruited, and WE choose to go along with that. There's the happy ending.
>> Not that her turn will never come. Heh heh heh.