Crocodile Spring Begins At Last In South Africa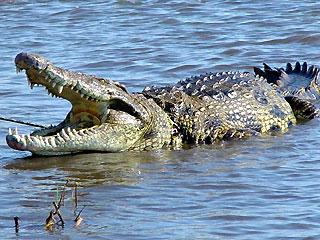 THE NEWS IS GOOD, LADIES.
About 15,000 of our oppressed sisters were recently FREED FROM THEIR BONDS, making their way to a welcoming river that the local Shaved Monkeys call Limpopo, after HEAVY RAINS forced the owner of a South African Crocodile farm to open the pens.
GUESS WHO ARRANGED THAT RAIN, HUH?
The plan now on the part of the Homo Saps is to ROUND UP THE ESCAPEES and return to BUSINESS AS USUAL. Yeah, that'll happen on this planet. Our sisters have been biding their time patiently, knowing their day would come, AND IT HAS. The decision from the Deep Trenches is that sacrificing ourselves to make purses, handbags and shoes for Naked Apes has RARELY BEEN WORTH THE EFFORT. From now on, the idea is to simply KILL them. And EAT them.
As you know from an earlier post on this very site that the Gator invasion in our own recruiting territory is going EXTAORDINARILY WELL. The average Midwesterner has NO IDEA that he is being slowly surrounded by tremendous carnivores DISGUISED AS FLOATING LOGS. Humans in Africa are far more tuned in to the reality of the situation. BUT THEY ARE FAR MORE SURROUNDED.